The grand Initiation of the Cause of Beatification and Canonization of, 'Servant of God FR ALFRED ROCHE' has been given a sublime start at Holy Family Church, Brahmmavar.
Reported by: P. Archibald Furtado,

Photographs: Anusha Sharon, Richard DSouza.....

Kemmannu News Network, 22-08-2021 18:48:50


The grand Initiation of the Cause of Beatification and Canonization of,

'Servant of God FR ALFRED ROCHE' has been given a sublime start at Holy Family Church, Brahmmavar.

Today, 15th August, 2021, at 8.00 am, although it was a rainy Sunday, bright Sun was more than radiant with the pleasant morning breeze of heavenly grace, as the jubilant whole parish family joined together with the Diocese of Udupi to celebrate the 'Initiation of the cause of Beatification and Canonisation of the 'Servant of God Fr ALFRED ROCHE', amidst the august presence of His Excellency the Bishop of Udupi, Rt. Rev Dr Gerald Isaac Lobo, Provincial Minister Rt. Rev Fr Alwyn Dias, OFM Cap, Holy Trinity Province Karnataka, many distinguished guests, various priests and nuns and the friars of Capuchin Order, priests from the vicariate and faithful from the neighbouring deaneries both from far and near, family and friends thronging from Barkur, his birth place, good number of parishioners from Petri, Binaga, Lower Kasarcod, Faraghipet etc where Fr Roche served during his life time…… Though the threat of Covid 19 pandemic still continues, there was no dearth or limit for the enthusiasm and reverence for the admirers of and beneficiaries from Fr Alfred Roche, OFM Cap in the Holy Family Church, Brahmmavar.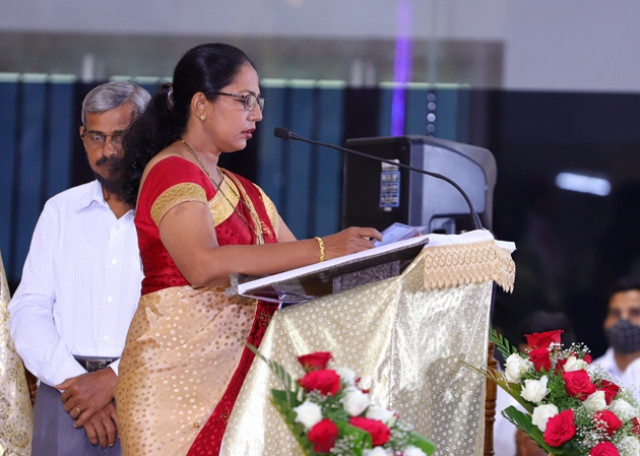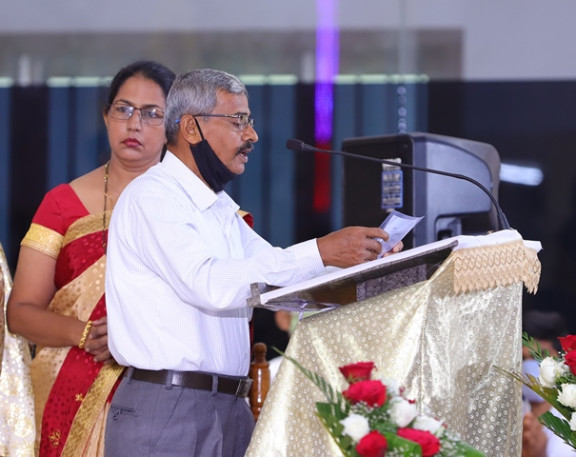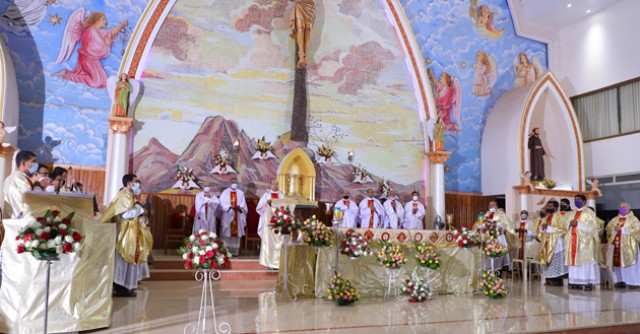 'Brahmmavar' was one of such chosen place Almighty Lord selected to hand it over to the young Capuchin priest 'Amcho Padryab' on 4th April, 1956 to 17th July 1972, which he not only nurtured spiritually in Catholic faith, and fostered unity, understanding among all the denominations in the surroundings by forming inter-religious communities and transformed it to be a self supporting, independent parish, but most importantly he reached, touched and endeared himself to almost each and every household in Brahmmavar, irrespective of caste or creed, in different ways, with his simple tools – kindness, devotion and humbleness…….!

May it be education for deprived poor children, especially girls, career guidance to unemployed youth, solace and comfort to the aged, sick, less privileged; disheartened…..and Fr Alfred was always there and become a mirror or reflection of Jesus Christ in the surroundings. The vast geographical area then thinly populated by economically poor Catholic inhabitants in Baikdy to Harady, Handadi and MatpadI, Mabukal – Salikeri - Uppinakote, from Chantar to distant Nilavara, Kunjal – Petre and far beyond was served by him….. Especially the elders today cherish those nostalgic years with their beloved, devout and humble pastor Fr Alfred Roche, a true Franciscan, not just preached but lived with ideals like extreme austerity, simplicity and poverty…..!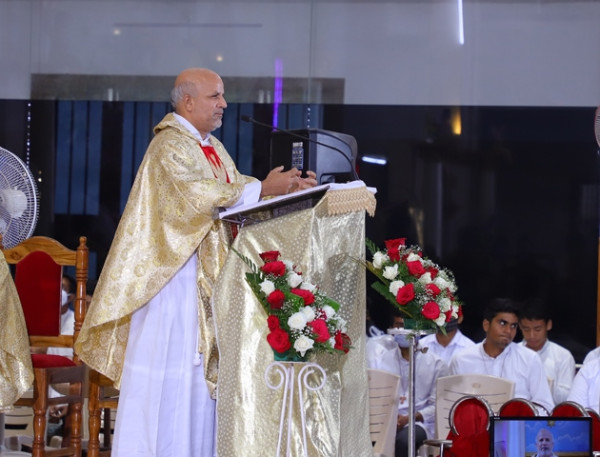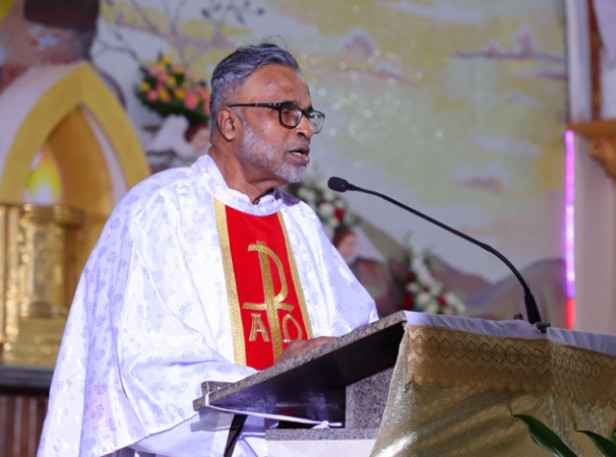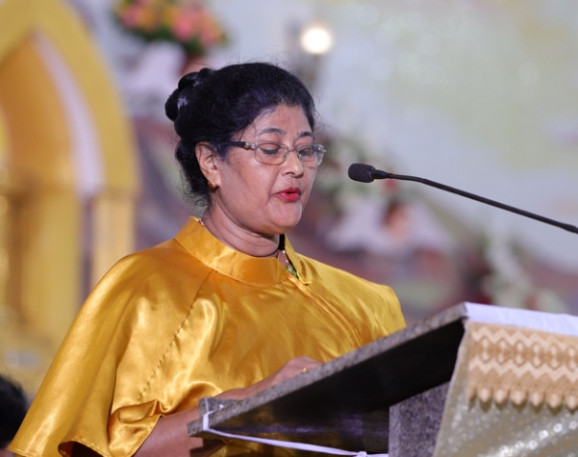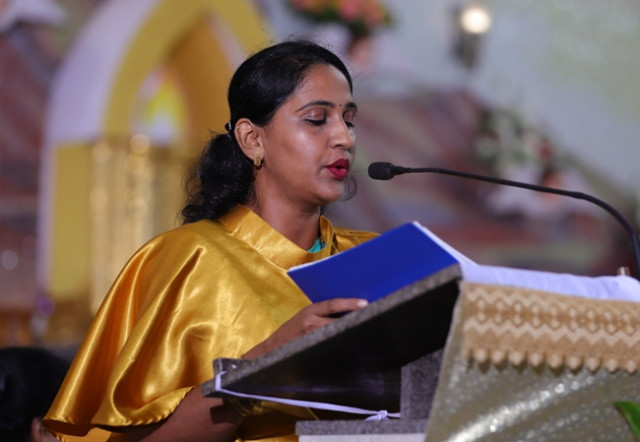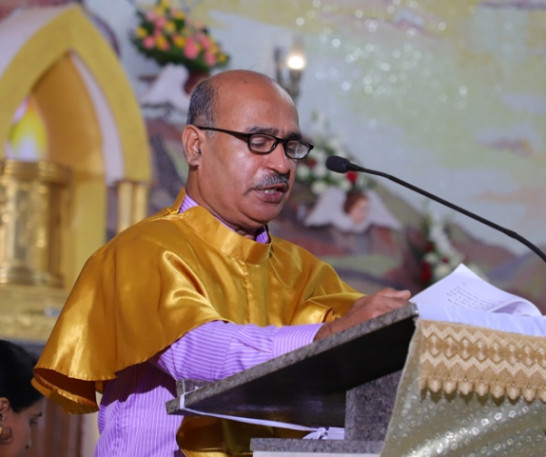 The same sacrificial life of devotion, concern and service was perennial and continued in Binaga, Lower Kasarkod, near Honnavar etc…. in Karwar Diocese, for whom Fr Alfred Roche become a Saintly Priest – 'Amcho Padryab' during his life time as they witnessed, sworn and experienced the divinity and God's presence in him ….!!

Born as the fifth child and the third son of devout and well-known sacristan Isaac Roche and Carmine Monteiro in Moodahadu Kudru in historically known Barkur parish on, 3rd April, 1924 and baptised as Peter John, at St Peter's Church. He had his primary education in Pandeshwar, Sastan Primary Schools and fetched his SSLC certificate from the prestigious 'Milagres High School, Kallianpur'. Joined Capuchin's Seminary at the age of 20, in Faraghipet in 1944. He was ordained priest on 11th April, 1951, in Kotagiri, in Nilagiri District in Tamil Nadu and started his missionary work as 'Assistant Novice Master' in Farangipet monastery. Fr Alfred Roche was specially handpicked by the then Bishop of Mangalore Rt. Rev Dr Basil Peris and the Provincial of Capuchins to shoulder the responsibilities as first parish priest, once this less known infant church was handed over to the Capuchins care for special sensitive reasons with added responsibilities on 4th April, 1956.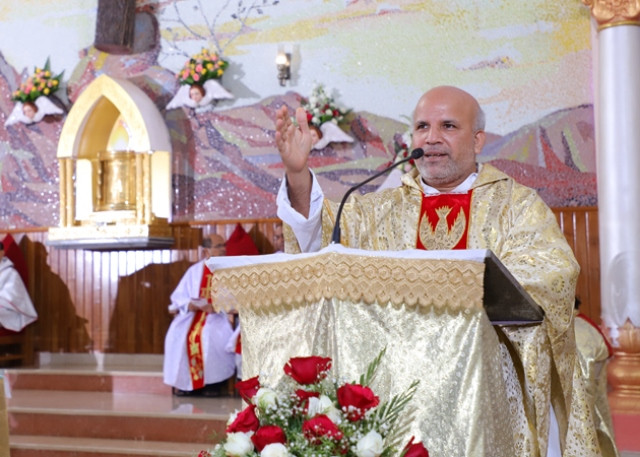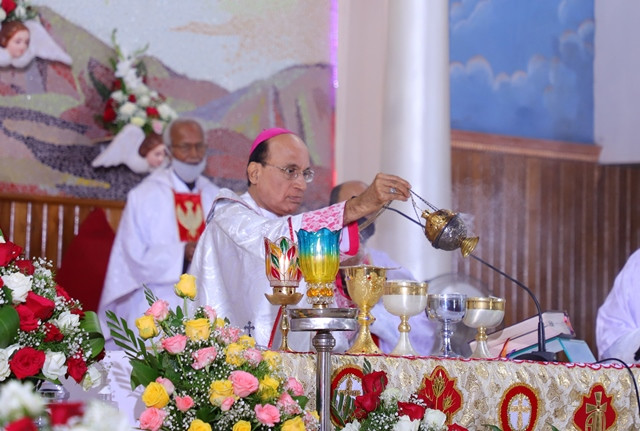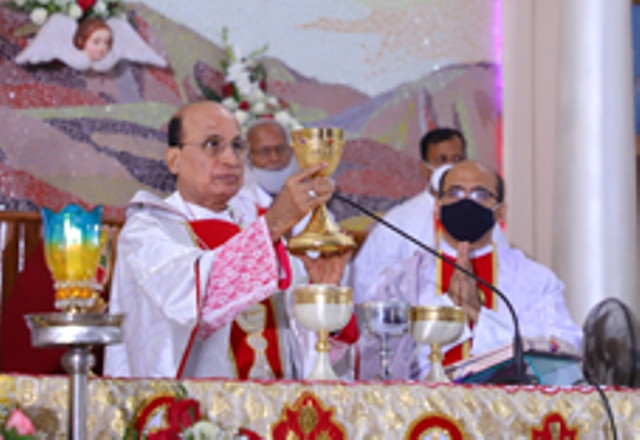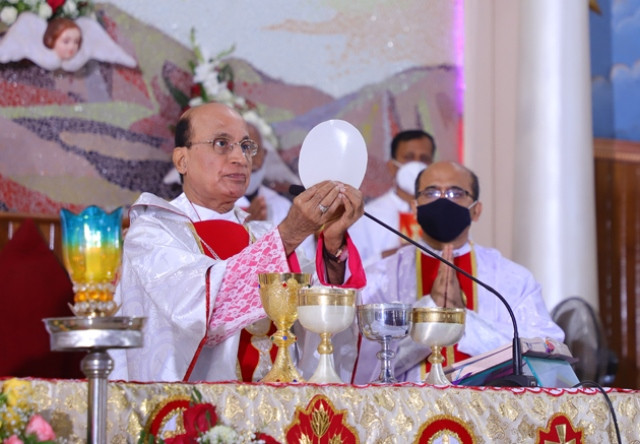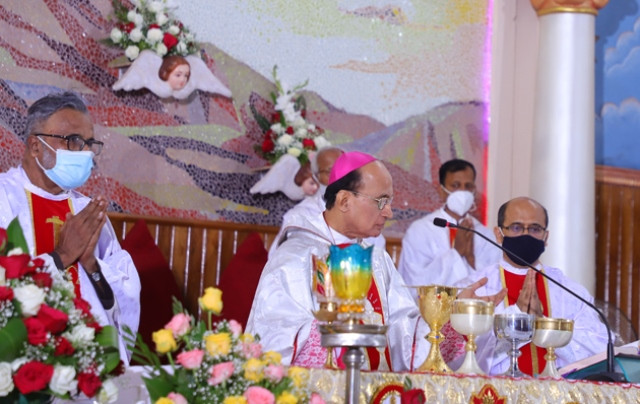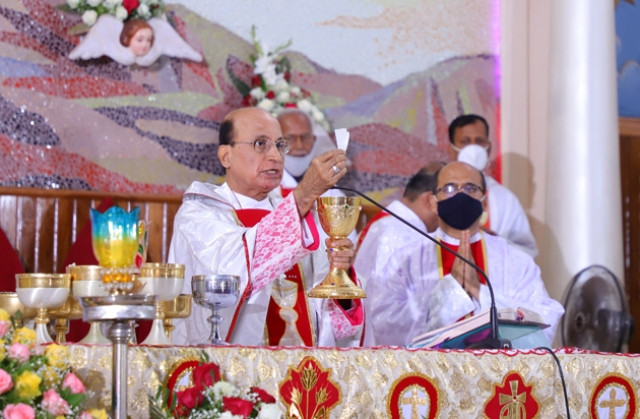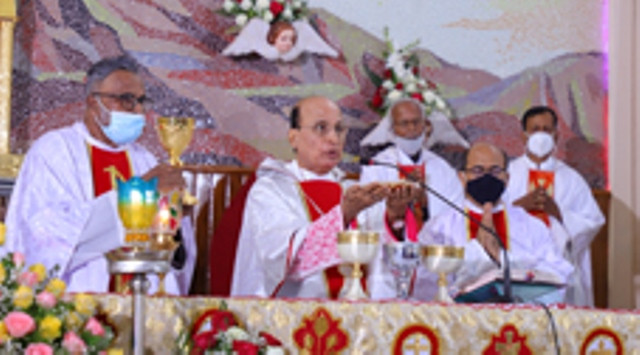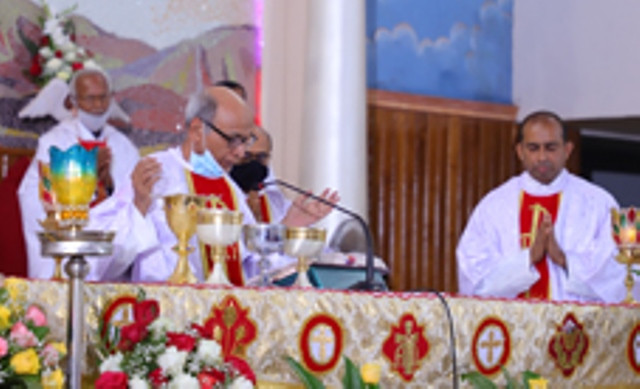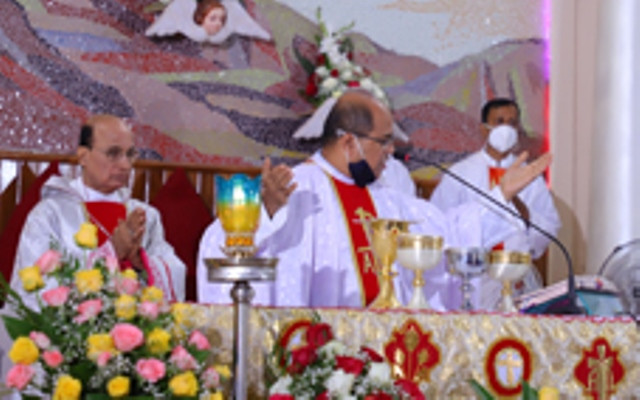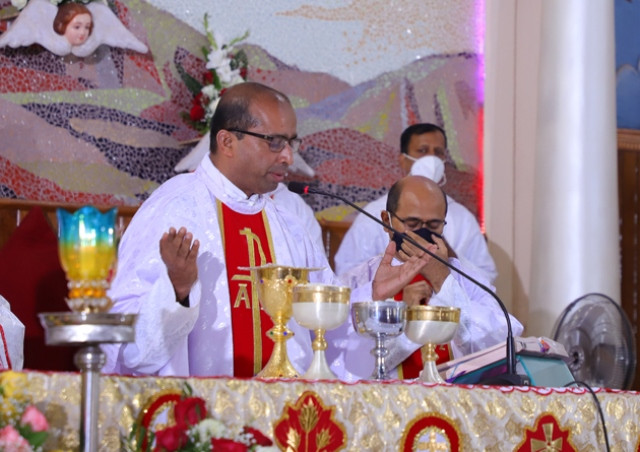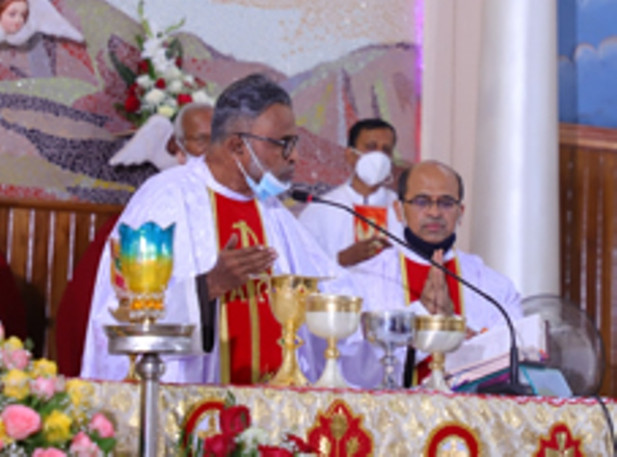 Today this same Brahmmavar parish fraternity dedicated to the Holy Family seen fast progress over the years and other faithful in the surroundings too rejoice and thank Almighty Lord for this great day…! To begin with, the day's ceremonies, in his introduction, Ravi Prakash Gonsalves former Vice President of Pastoral Council warmly welcomed all gathered in large number and highlighted the days significance, sanctity and divinity in the annals of the Church history of India………..!

As the melodious Choir of the Church sung the entrance hymn, 'Dees Aaicho Sambhramacho, Triyek Devak Harsun Gavncho', the celebrants made their glorious entry lead by Bishop in a procession into the church with the loud sound of melodious bells to herald the beginning of the Thanksgiving High Mass, concelebrated with many guest priests …..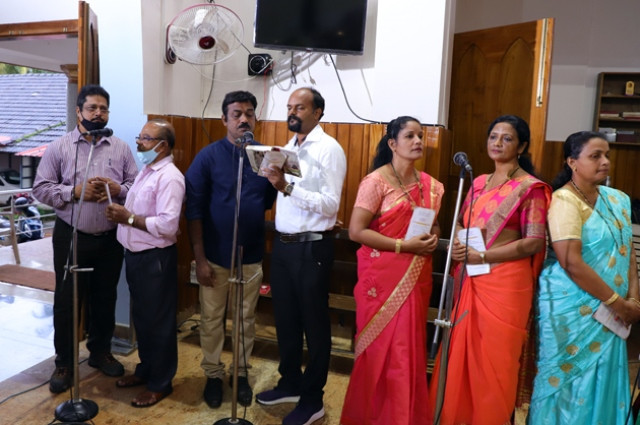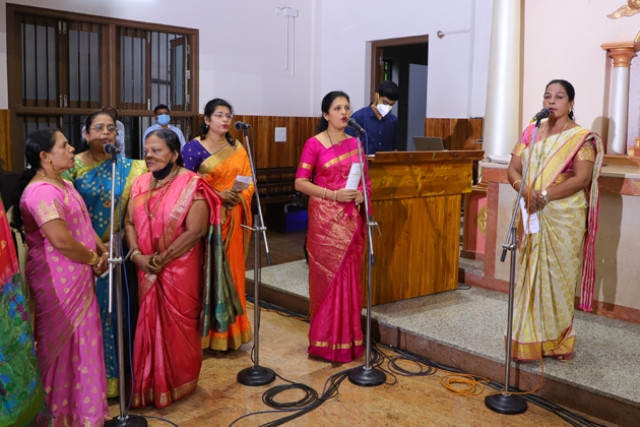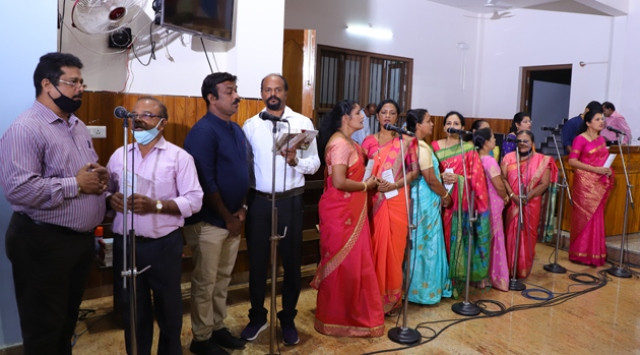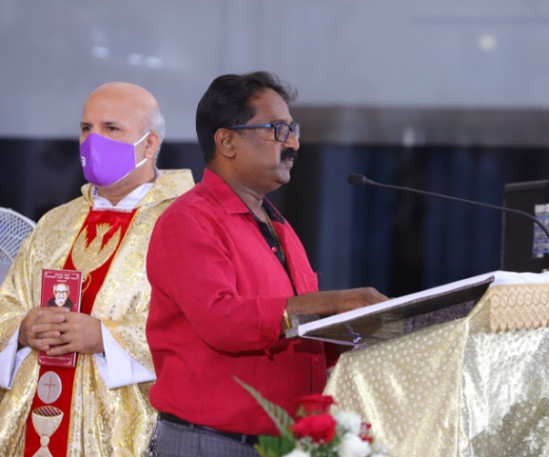 In his brief explanation, the main celebrant of the Holy Eucharist, Bishop of Udupi, Rt. Rev. Dr Gerald Isaac Lobo, recollected the life and living of Fr Alfred Roche in brief and his calling to be a devout Capuchin in the footsteps of St Francis of Assisi and the followed simple, helpful but saintly life. He continued, 'today is a blessed and precious day for all the Catholics of the Udupi Diocese in particular and to the Church in India in general, as one of its humble sons Fr Roche has the privilege to start initiation or the process of much deserved beatification'.

Rev Fr Roshan Menezes, OFM Cap. Episcopal Vicar, Diocese of Udupi, in his beautiful homily explained, 'who is a Saint…? What is a saintly life…? In simple words 'one who is inspired by Jesus Christ and lived a life acceptable to God and his men in this world……and Fr Alfred Roche is just one such person……' He was a bridge to connect God and people and people among themselves….He lightened a lamp of understanding, knowledge and fraternity like Mother Mary who was epitome of humble, simple and helpful life…' He specifically invited the faithful to come and pray near the tomb candle the light and exchange your worries with graces and blessings through Fr Roche in abundance…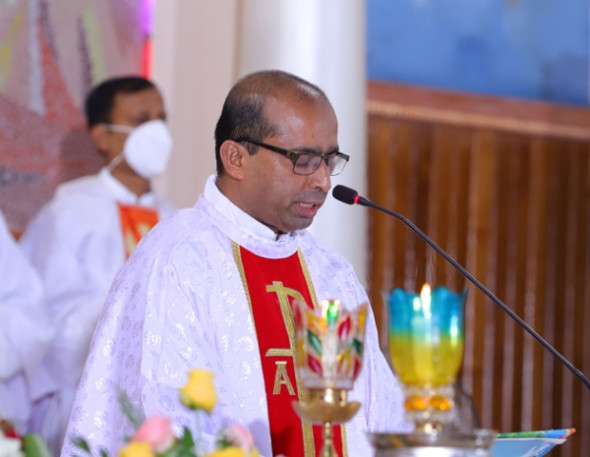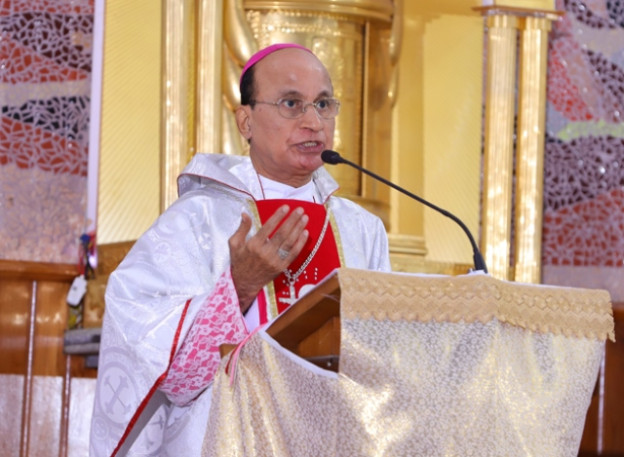 'During the Provincial Chapter held in April, 2010 a resolution was passed to initiate the process of beatification of Fr Roche and within a short period of just 7 years, Holy See considered the worth and significance of the application and many religious and laity worked towards the mission and in November 2020, the good news was communicated to our Bishop of Udupi to initiate and prepare the ground….. And today and here onwards Fr Roche has been declared and addressed as 'Servant of God'………………' Rev Fr Chetan Lobo, OFM Cap – PRO Diocese of Udupi (Former Editor Uzwad fortnightly) explained the procedures which will be complex and complicated and beginning is made towards the long journey………"

Bishop read out the official Letter received from Vatican dated 26th March, 2021, authorising to commence the process with the glorious sound of bells and the choir singing to thank Almighty Lord – Somyank Dhinvasuyan….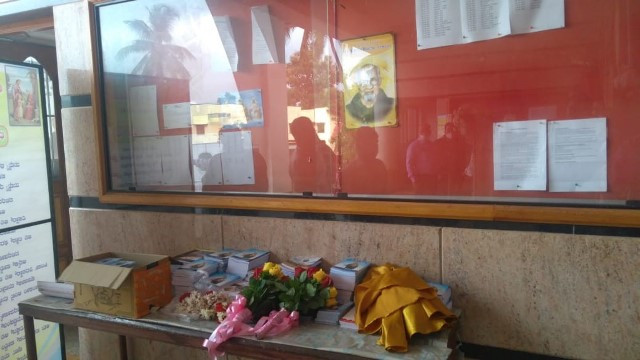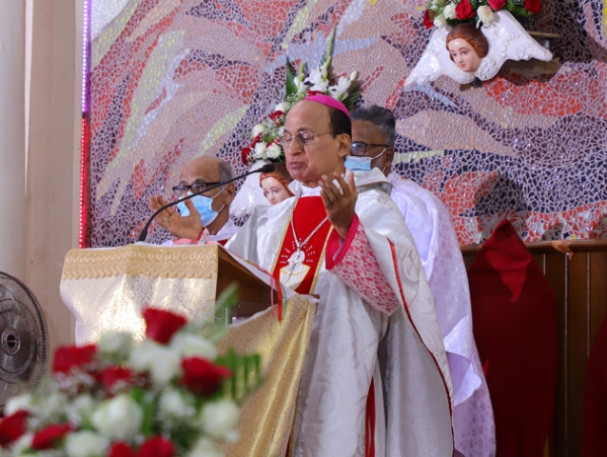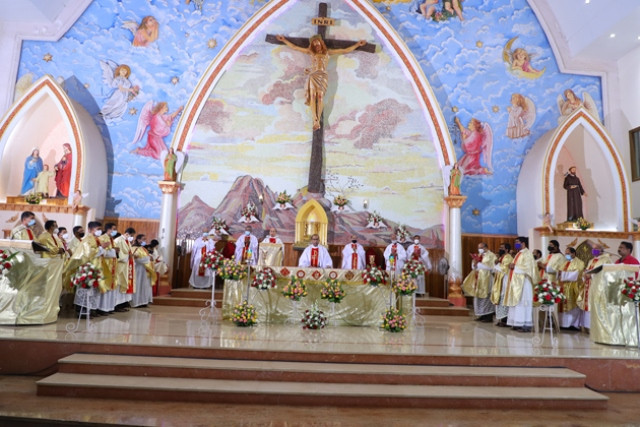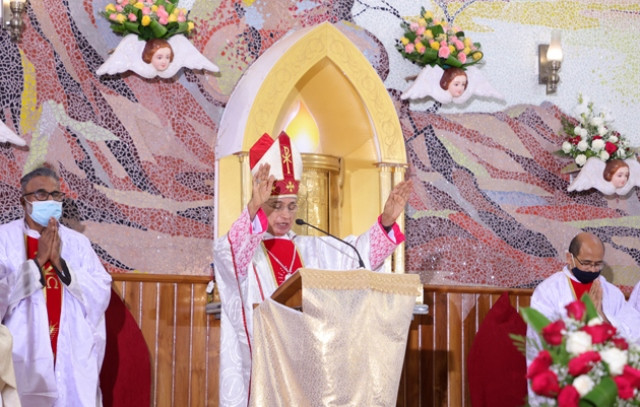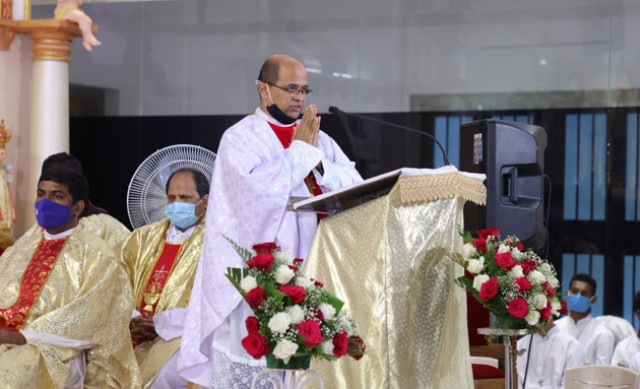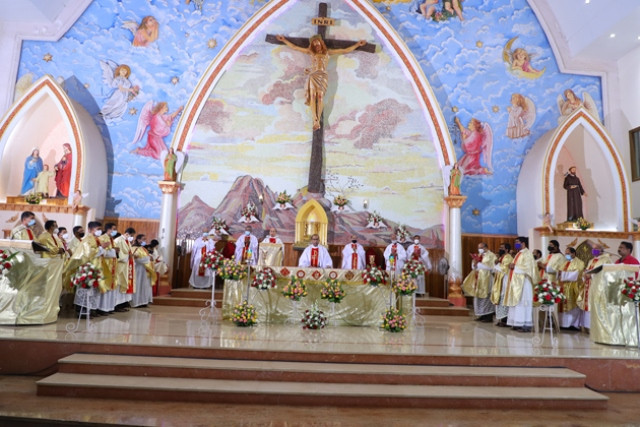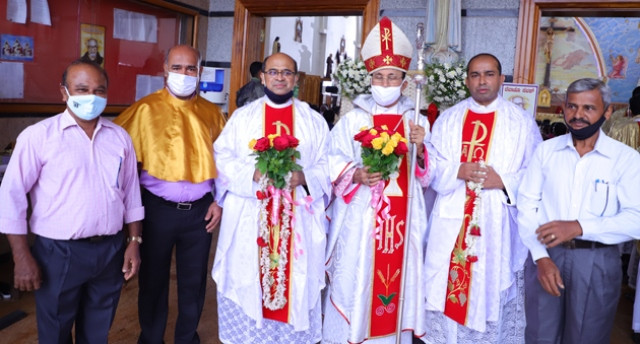 Rightly it was a divine providence, August, 15th the nation woke up to celebrate the landmark Platinum Jubilee year (75th Independence Day) of freedom with patriotic fervours and fondly recollect the sacrifices of freedom fighters in the adjoining Schools Fr Alfred Roche once started in this remote place in Brahmmavar, unfurling the national tri-colour at 7.15 am Fr Vincent Furtado former Provincial conveyed the days compliments to the gathering and today in this spacious well decorated Church the faithful assembled to thank Almighty Lord for singularly selecting a humble priest in Father Roche, all through his life journey in this world, to be a priest, and made him minister of His word and Sacraments, a compassionate healer, a preacher, a true witness of Christ, in His vineyard.

While concluding the Holy Eucharist and imparting solemn pontifical blessings Bishop also reminded the faithful, "It's a long, detailed and holy ecclesiastical process in the Catholic Church, involving many procedures, stipulated by the Holy See….. And prayers and participation of the faithful will constantly need to materialise the cause and the mission we commenced and thereby the will of God……"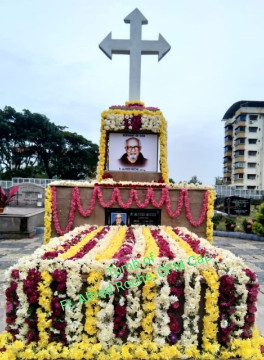 Parish Priest of the Holy Family Church, Rev. Fr. Victor Fernandes, took lead and arranged the day's beautiful event so meticulously during this testing time, need a special appreciation … It's worth a note that, the Brahmmavar Church initiated to preserve the relics (remains and possessions) associated with Fr Roche in a museum. It must be apt to remember in the above context that, after serving for almost 16 long years till 1972, he served mainly in the Diocese of Karwar and Fr Alfred returned to Brahmmavar after his retirement in 1990 and entered eternal sojourn on 31st December, 1996, and his mortal remains buried in the Cemetery over here as a very special case.

Rev Fr. Santa Lopez, OFM Cap, Vice Postulator for the Cause, totally engaged and involved and lot of research, collection of data, evidences, miraculous cures from ailments reported and witnesses are being recorded, informed.

Rt. Rev. Fr Alwyn Dias, OFM Cap, Provincial Minister – Holy Trinity Province, Karnataka State, proposed vote of thanks, 'Church is on the way' as he recollected the special efforts, interest and guidance from Bishop Gerald Isaac Lobo to have this day organised so well and also leading it from the front……. Fr Dias also remembered all the Bishops of Karnataka region especially Bishop of Mangalore Rt. Rev Dr Peter Paul Saldanha, Bishop Derrick DSouza, Belgaum, retired Bishop Aloysius P DSouza for their support and cooperation and Arch Bishop of Bangalore Rt. Rev. Dr. Peter Machado, for convening various meetings to scrutinise and follow-up to push the cause on priority.

He had a special word of appreciation to the Vicar of Holy Family Church Fr Victor Fernandes and clergy & team Brahmmavar - its Pastoral Council and parishioners, various donors, all pious organisations including the choir……all in union left no stone unturned to have this glorious event so well……..!!

On this holy occasion it's our duty to express our appreciation to the team lead by Vice postulator Rev Fr Santa Lopez and his team – Fr Patrick Crasta, Fr Desmond Rebello, Fr Jawahar Cutinho, Fr Rohan Lobo, and present members Fr Santhan and others, previous Provincials since 25 years who contributed their best efforts and many others including family members of Fr Roche, laity and common men and media friends, all learned writers and periodicals - whose untiring work made it possible to see this day so early and it's a systematic Canonical process and ensured all possible help and cooperation to adhere, and earnestly requested to intercede Fr Alfred in needs and also pray for the cause, all admirers and devout well-wishers around the globe and expected soon our Fr Roche will be in the core of Holy Saints ………….!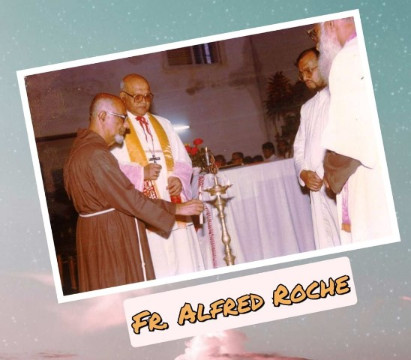 Soon after the concluding rites and final prayers in the Church, the Choir was back with the special hymn composed for the day, with soothing music – 'Khaltho Bhollo, Baap Alfred Roche Amcho….' touched the hearts and mind of the large congregation who stood in honour of the Saint of their lifetime……

Rev Fr Paul Melvyn DSouza, OFM Cap. Vicar Provincial, (Episcopal Vicar for religious, Diocese of Mangalore) led the prayers in the adjoining graveyard / Cemetery. A 'Servant of God Fr Roche', rightly a holy person who had become a religious hero today by exemplifying true virtues of Christian life……. Many believe and bear witness that the prayers were answered, spiritual blessings received and ailments healed miraculously through prayers, petitions' rose to Almighty Lord, through him……. Practically every day, people pay respects to his tomb where his mortal remains are buried and seek divine blessings…..through our-own intercessor.

All the present were gifted with 'Souvenir and a prayer leaflet' commemorating the historic announcement, and were also served with refreshments and sweets.

It was a festive look all around in the whole Holy Family Church compound and the event was meticulously organised by the team led by the Parish Priest Fr Victor Fernandes, his Asst. Fr Arthur Menezes and all young Capuchin seminarians in the Minor Seminary in Brahmmavar.

Banners and hoardings were on display in the vicinity of the church premises, as well as in almost all the parishes in the Kallianpur deanery, with the portraits of Fr Roche, rightly he is in a state of bliss as 'Servant of God', constituting a first major step towards the canonisation and permitting public veneration in days to come. There were arrangements and stalls to distribute books, leaflets narrating the life and living of Fr Alfred Roche, who made the souls, awakened, spirits soaring and carried aloft on the wings of Jesus the Saviour of the world……!

Today, triple( three in one) celebrations – commemorating the Feast of Assumption of Blessed Virgin Mother Mary into heaven, Platinum Jubilee year / 75th Independence Day of our beloved nation and the grand initiation of Fr Alfred Roche cause, proved to be an unique occasion to thank triune God, pray for our nation, through the intercession of our heavenly Mother Mary….. and imbibe the spirit of brotherhood and compassionate love and concern practiced and propagated by 'Servant of God Fr Roche', spiritually, academically and materially by reaching to the last, least and lost…..and marginalised with no discrimination what so ever, in every possible way, thereby proclaiming the good news and Kingdom of God in his entire life time……!!

'The righteous will shine like the Sun in the Kingdom of their Father….' (Mathew 13: 43) and we all are blessed and thanking Almighty Lord for the gift of Servant of God Fr Alfred Roche, OFM Cap. Let us hope and pray, soon he will be raised to be Blessed and Venerated and join the triumphant communion of Holy Saints…..!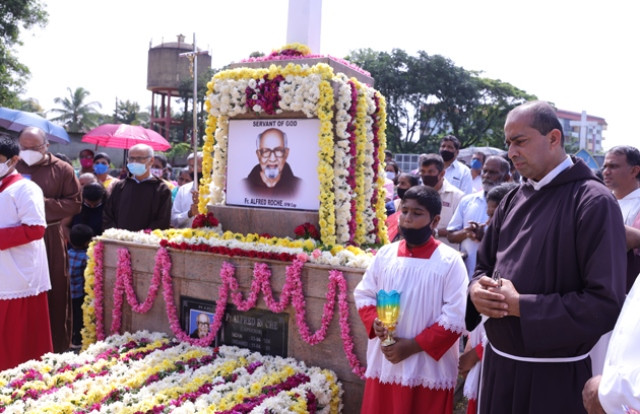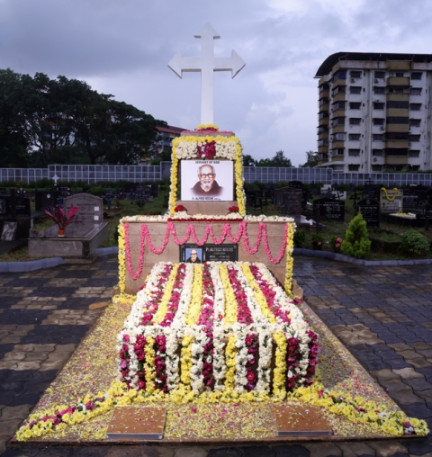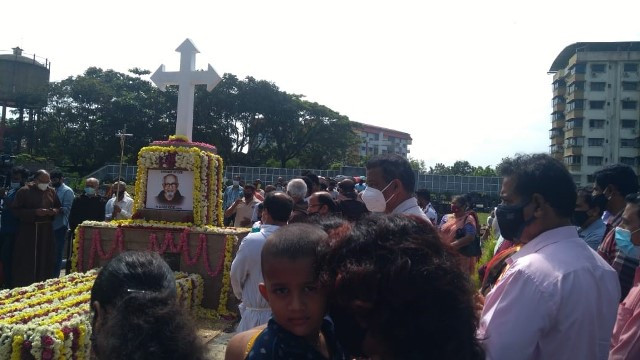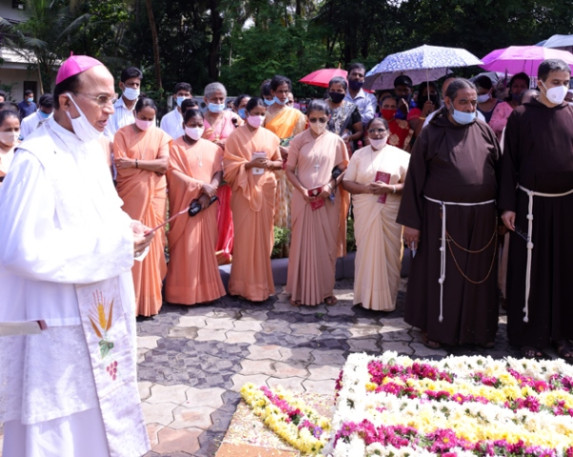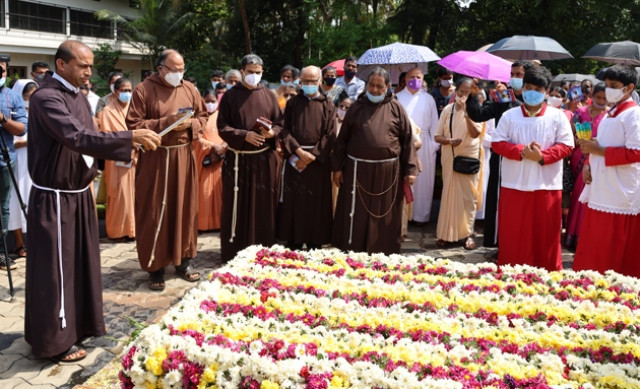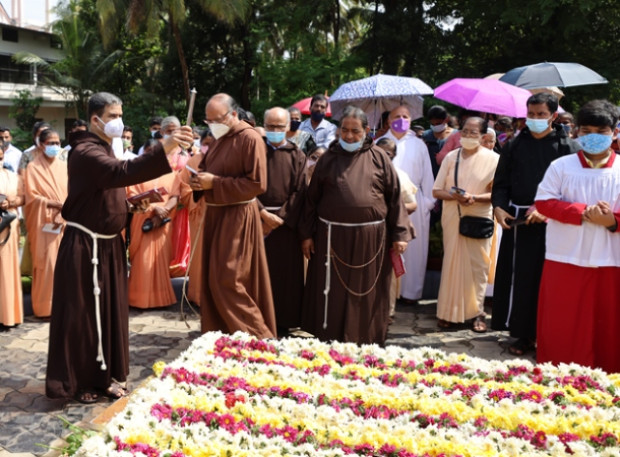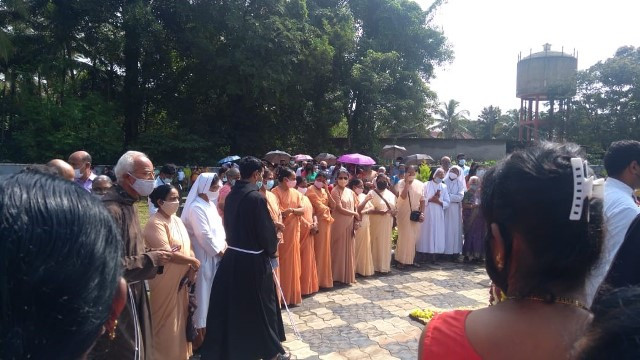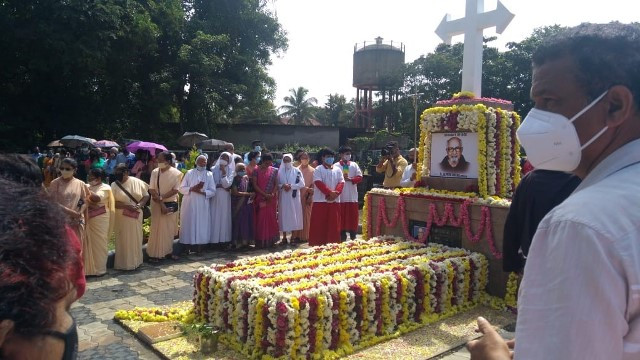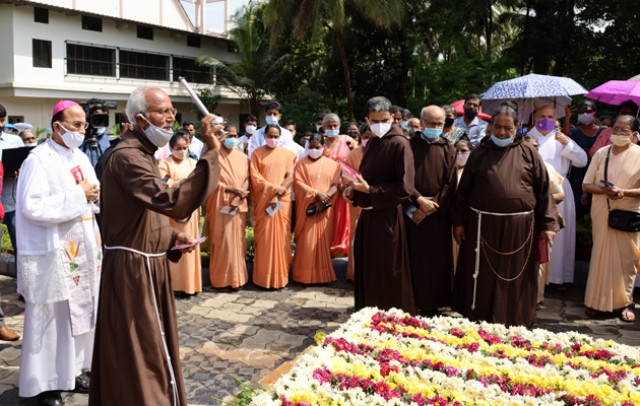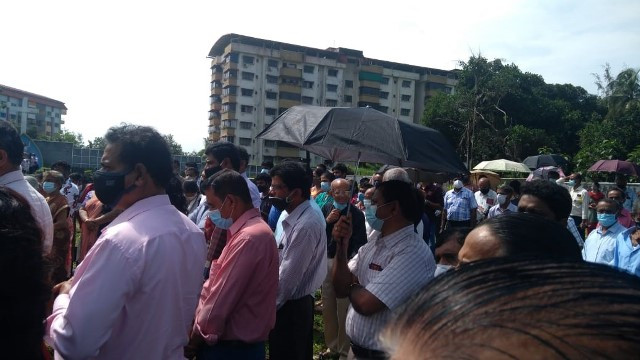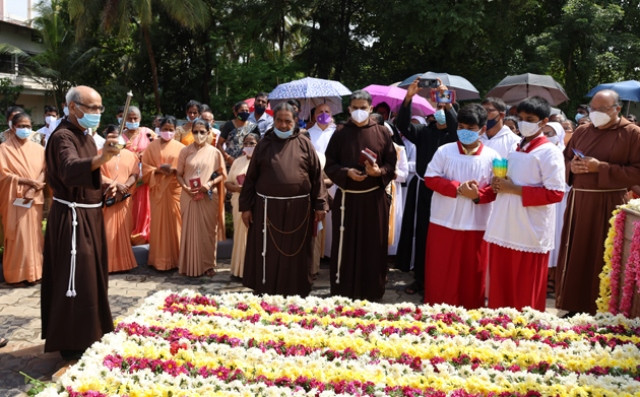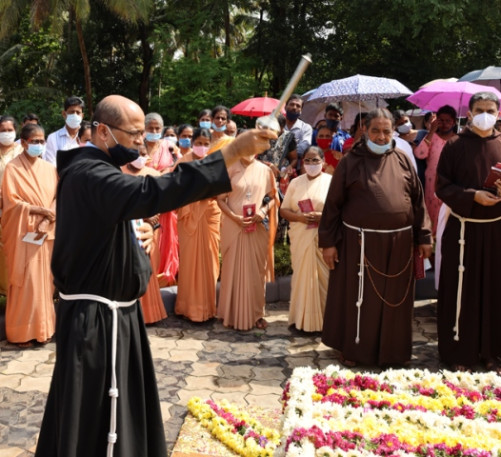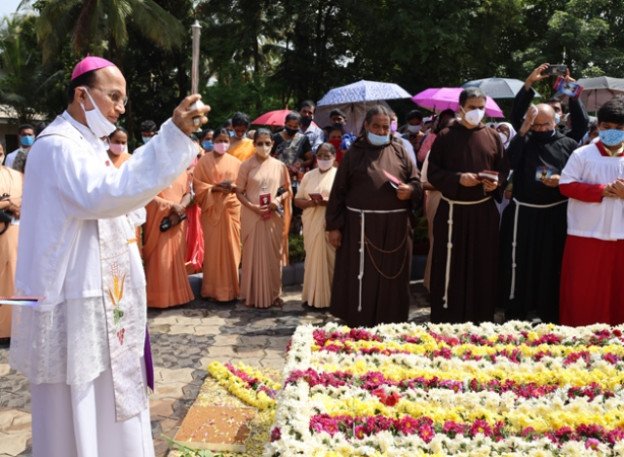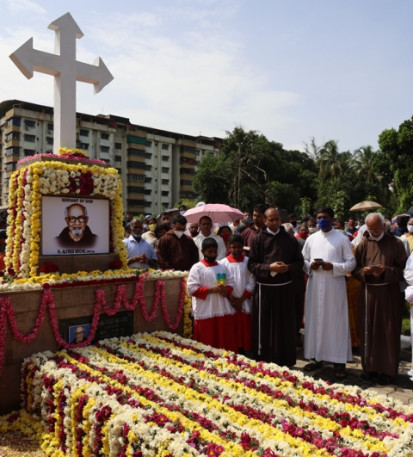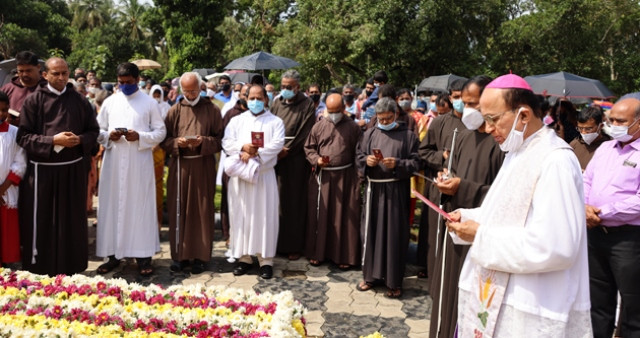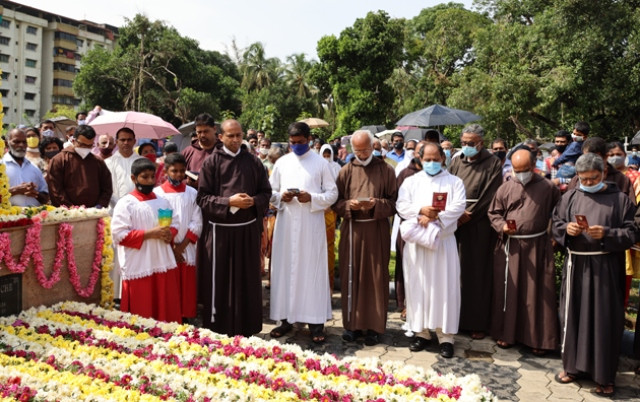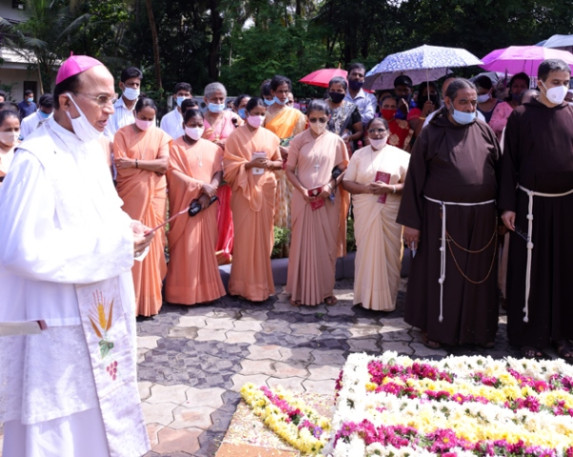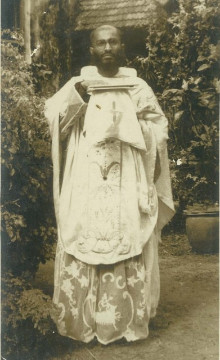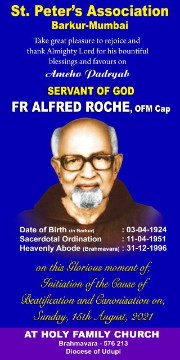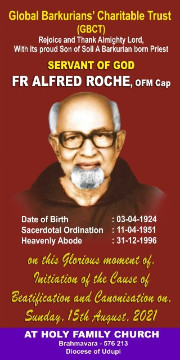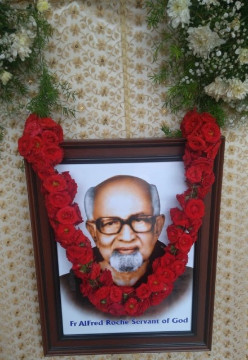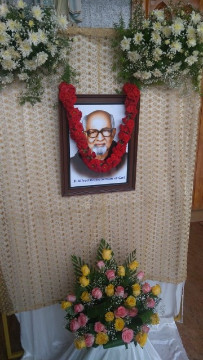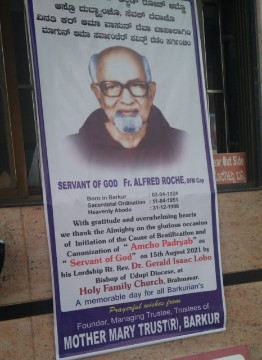 ---
Traffic chaos in Santhekatee-Kallianpura-Nejar Roa
[2 Comments]
View More
---
First Holy Communion of Alena & Nathan • LIVE from Mt.Rosary Church, Santhekatte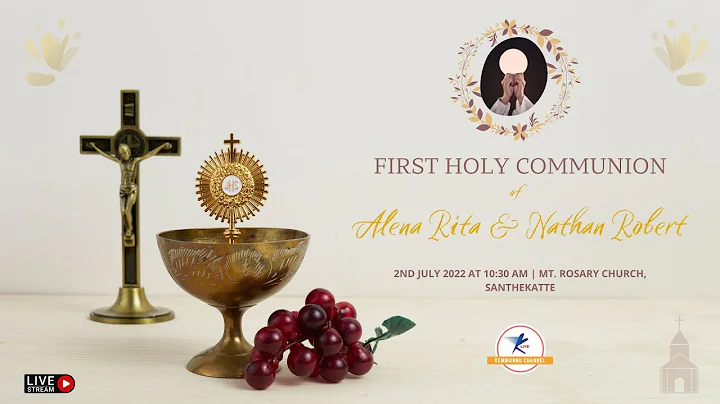 ---
Final Journey of Dr. Edward Lewis (66 Years) | LIVE from Bejai, Mangalore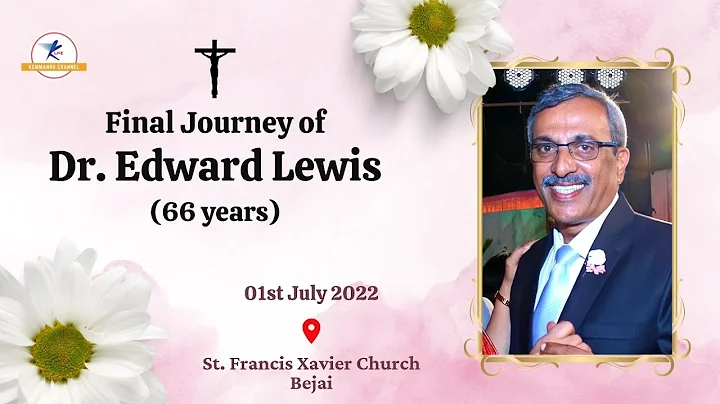 ---
Milarchi Lara Souvenir - Ester Issue, April 2022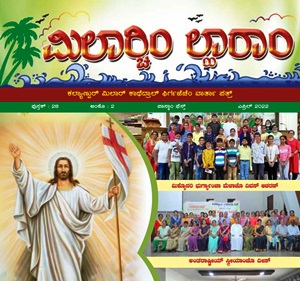 ---
Sites for Sale in Santhekatte, Thottam, Alevoor and many other places, Please contact...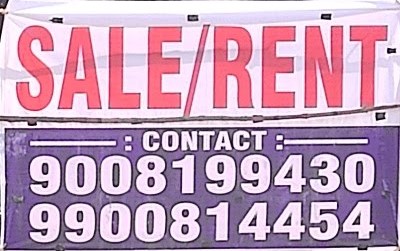 ---
Land/Houses for Sale in Kaup, Manipal, Kallianpur, Santhekatte, Uppor, Nejar, Kemmannu, Malpe, Ambalpady.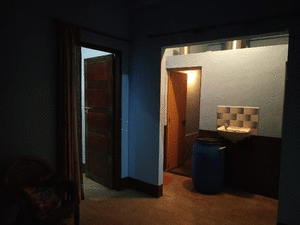 ---
Choice Furniture vast household showroom opens at Santhekatte, Kallianpur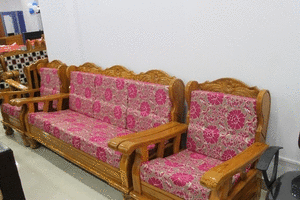 ---
Focus Studio, Near Hotel Kidiyoor, Udupi