Pope denounces 'sin of indifference' before Mother Teresa canonisation

Francis criticises those who choose 'not to see the many forms of poverty' on eve of ceremony that will proclaim Mother Teresa a saint
Pope Francis has denounced what he called the modern-day sin of indifference to hunger, exploitation and other suffering, while commending the example of Mother Teresa on the eve of a sainthood ceremony for the nun.
"Tomorrow, we'll have the joy of seeing Mother Teresa proclaimed a saint," Francis told thousands of lay volunteers in St Peter's Square at a special gathering to stress the need for more mercy and caring in the world.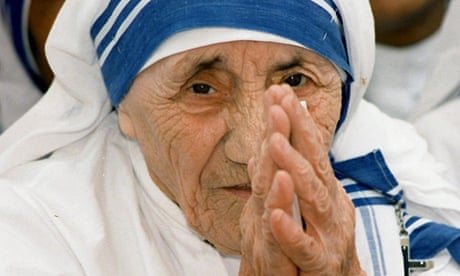 Francis will lead a Sunday morning canonisation ceremony in the square which is expected to draw huge crowds of faithful and other admirers of Mother Teresa, who founded an order of nuns devoted to caring for the poor and destitute on the streets of Kolkata, India.
In his speech on Saturday to a crowd of volunteers that included some who helped rescue survivors of the 24 August earthquake in central Italy, Francis decried those who "turn the other way not to see the many forms of poverty that begs for mercy".
Choosing "to not see hunger, disease, exploited persons, this is a grave sin. It's also a modern sin, a sin of today," he said.
Francis hailed volunteers as "artisans of mercy", whose hands, voices, closeness and caresses help people who suffer feel loved. While in the square, he petted Leo, the labrador that helped find a four-year-old child who had survived in a pile of quake rubble. The dog raised a paw, which Francis grasped.
Since becoming pope in 2013, Francis has been encouraging Catholic faithful and institutions to tend to the needs of marginalised people.
"The world needs concrete signs of solidarity, above all when faced with the temptation toward indifference," Francis said.
In a shop in Kolkata which sells snacks and rosaries, Muslim shopkeeper Tanveer Ahmed recalled seeing Mother Teresa and other nuns take in a leprosy patient who lay bleeding in the street while others passed by, unmoved.
"We are fighting with each other. We are killing each other. But, if you want to see love, please look at Mother Teresa," Ahmed said. He added: "I believe Mother is next to God."