Udupi: Senior Citizens of Land Victims appealed to District Collector, Kurma Rao MIAS.
Richard Crasto

Kemmannu News Network, 24-11-2021 07:28:11


Udupi 22/11/2021
Senior Citizens of Land Victims appealed to District Collector, Kurma Rao MIAS.
There are thousands of victims of land mafia in Udupi. In the 90s and 20s, many employees in the public and private sectors bought pieces of land in different areas to build their own dream home in Udupi. Roads and other standards were set by the government in the 90s and 20s, and the rules were changed by the authority in 2014, and urban development has brought new rules to layouts, which have affected thousands of senior citizens' families. Hundreds of deaths are painful. In many families, the marriage of daughters is pending, a financially strained situation in the family of elders who are sick in bed. Some Homeless victims living in a rented home
Mr Hegde, Mr Gadiyar, Mr Pai, Mrs Bhanumati Prabhu, Mr Balachandra Bhat and Dr Balachandra Bhat were the victims of the scandal in the hope that the district authorities would resolve their issues promptly. Kamalesh, Robert, Azam in the Disttic commission office
An appeal has been filed today.
Disttic commissioner have responded well and Said will continue their efforts.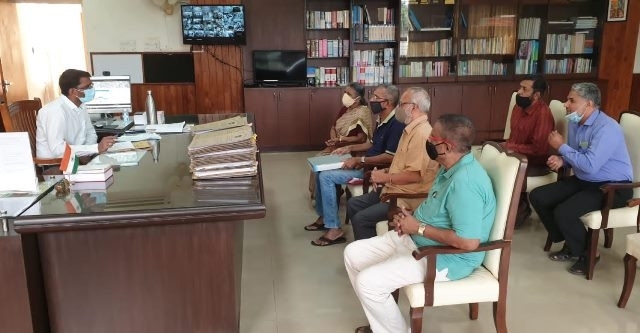 ಉಡುಪಿ 22/11/2021
ಭೂ ಸಂತ್ರಸ್ತ ಹಿರಿಯ ನಾಗರಿಕರು ಜಿಲ್ಲಾಧಿಕಾರಿ ಕೂರ್ಮಾ ರಾವ್ ಎಂ ಐ.ಎ.ಎಸ್ ಇವರಲ್ಲಿ ಮನವಿ ಸಲ್ಲಿಸಿದರು.
ಉಡುಪಿಯಲ್ಲಿ ಭೂಮಾಫಿಯಾಕ್ಕೆ ಬಲಿಯಾದ ಸಾವಿರಾರು ಭೂ ಸಂತ್ರಸ್ತರಿದ್ದಾರೆ. 90 ಮತ್ತು 20 ರ ದಶಕದಲ್ಲಿ ಸರಕಾರಿ ಹಾಗು ಖಾಸಗಿ ಕ್ಷೇತ್ರದಲ್ಲಿ ದುಡಿಯುತಿದ್ದ ಅನೇಕ ಉದ್ಯೋಗಿಗಳು ಉಡುಪಿಯಲ್ಲಿ ತಮ್ಮ ಸ್ವಂತ ಕನಸಿನ ಮನೆಯನ್ನು ನಿರ್ಮಿಸಲು ವಿವಿಧ ಬಡಾವಣೆಗಳಲ್ಲಿ ತುಂಡು ಭೂಮಿಯನ್ನು ಖರೀದಿಸಿದರು. 90 ಮತ್ತು 20 ರ ದಶಕದಲ್ಲಿ ರಸ್ತೆ ಅಂಚುಗಳು ಮತ್ತು ಇತರ ಮಾನದಂಡಗಳನ್ನು ಸರ್ಕಾರವು ನಿಗದಿಪಡಿಸಿತ್ತು ತದ ನಂತರ 2014 ರಲ್ಲಿ ಪ್ರಾಧಿಕಾರದಿಂದ ನಿಯಮಗಳನ್ನು ಬದಲಾಯಿಸಲಾಯಿತು ಮತ್ತು ನಗರಾಭಿವೃದ್ಧಿಯು ಲೇಔಟ್‌ಗಳಿಗೆ ಹೊಸ ನಿಯಮಗಳನ್ನು ಜಾರಿಗೆ ತರಲಾಯಿತು.ಇದರಿಂದಾಗಿ ಸಾವಿರಾರು ಹಿರಿಯ ನಾಗರಿಕರ ಕುಟುಂಬಗಳು ತೊಂದರೆಗೀಡಾಗಿವೆ.
ನೂರಾರು ಸಾವು ನೋವುಗಳಾಗಿವೆ. ಬಹಳಷ್ಟು ಕುಟುಂಬಗಳಲ್ಲಿ ಹೆಣ್ಮಕ್ಕಳ ಮದುವೆ ಶುಭ ಕಾರ್ಯಗಳು ಬಾಕಿ ಉಳಿದಿವೆ, ಆನಾರೋಗ್ಯದಿಂದ ಹಾಸಿಗೆ ಹಿಡಿದಿರುವ ಹಿರಿಯರ ಕುಟುಂಬದಲ್ಲಿ ಆರ್ಥಿಕವಾಗಿ ಹದಗೆಟ್ಟ ಪರಿಸ್ಥಿತಿ. ಮನೆಯಿಲ್ಲದೆ ಬಾಡಿಗೆ ಮನೆಯಲ್ಲಿ ಜೀವನ ನಡೆಸುವ ಸಂತ್ರಸ್ತರು ತಮ್ಮ ಸಮಸ್ಯೆಗಳನ್ನು ಜಿಲ್ಲಾಧಿಕಾರಿಗಳು ಖಂಡ್ಡಿತವಾಗಿ ಬಗೆಹರಿಸುವರೆಂಬ ಭರವಸೆಯಿಂದ ಈ ಹಗರಣದಲ್ಲಿ ಸಂತ್ರಸ್ತರಾದ ಶ್ರೀ ಹೆಗ್ಡೆ, ಶ್ರೀ ಗಡಿಯಾರ್, ಶ್ರೀ ಪೈ, ಶ್ರೀಮತಿ ಭಾನುಮತಿ ಪ್ರಭು, ಶ್ರೀ ಬಾಲಚಂದ್ರ ಭಟ್, ಡಾ. ಕಮಲೇಶ್, ರಾಬರ್ಟ್ , ಆಜಮ್ ಅವರು ಜಿಲ್ಲಾಧಿಕಾರಿಯವರಲ್ಲಿ ಇಂದು ಮನವಿಯನ್ನು ಸಲ್ಲಿಸಿರುತ್ತಾರೆ.
ಜಿಲ್ಲಾಧಿಕಾರಿಗಳು ಉತ್ತಮವಾಗಿ ಸ್ಪಂದಿಸಿದ್ದು ತಮ್ಮ ಪ್ರಯತ್ನವನ್ನು ಮುಂದುವರಿಸುವುದಾಗಿ ತಿಳಿಸಿದ್ದಾರೆ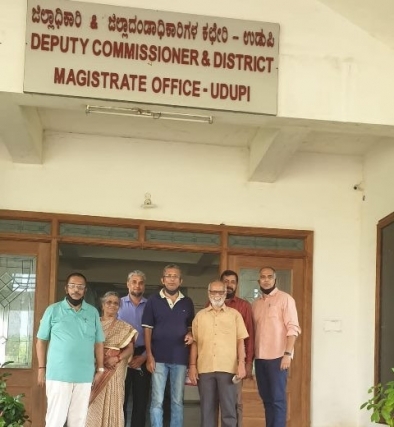 ---
Traffic chaos in Santhekatee-Kallianpura-Nejar Roa
[2 Comments]
View More
---
Final Journey Of Peter Xavier D'souza (94 Years) | LIVE From Santhekatte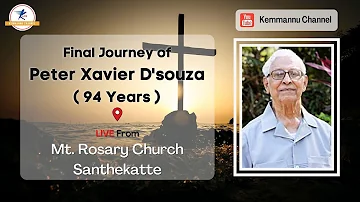 ---
Obituary : Peter Xavier D'Souza(94), Mount Rosary, Kallianpur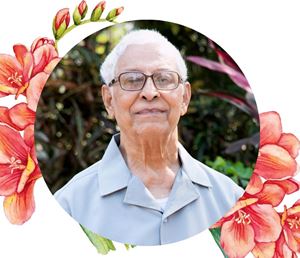 ---
Tribute to Nithyananda Kemmannu | ಶ್ರಧಾಂಜಲಿ ಸಭೆ |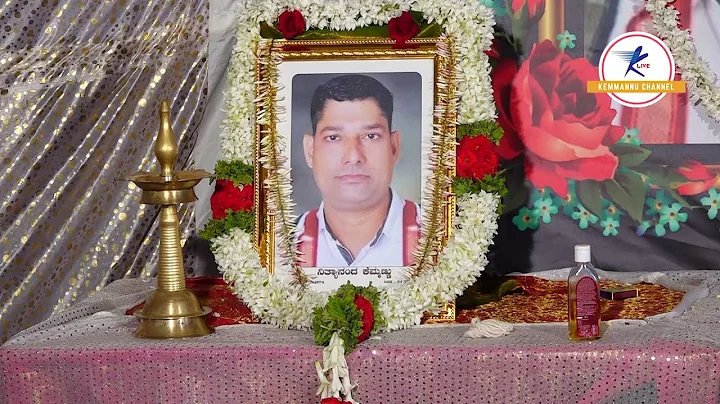 ---
Two plots for Sale Near Nejar Water Tank, 1 km to Santhekatte, Kallianpura.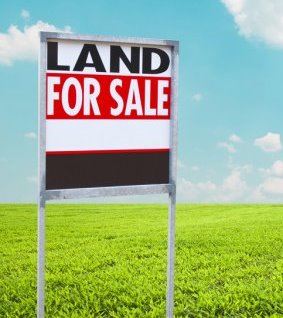 ---
Rozaricho Gaanch September Issue 2021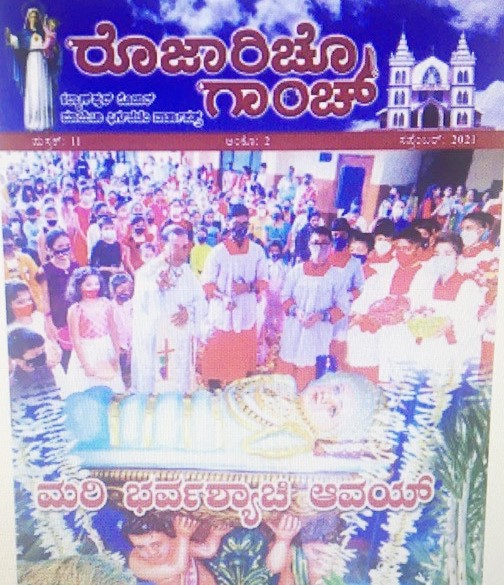 ---
Milarchi Laram - Issue Monthi Fest, 2021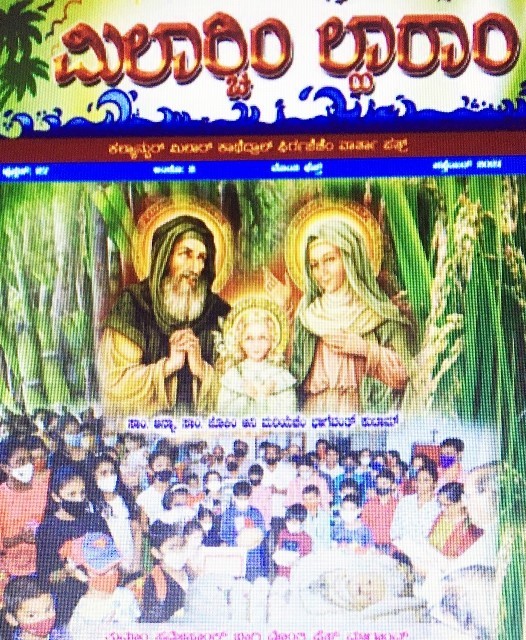 ---
Mount Rosary, Santhekatte: 'Rozaricho Gaanch' Special Decennial Year 2011-2021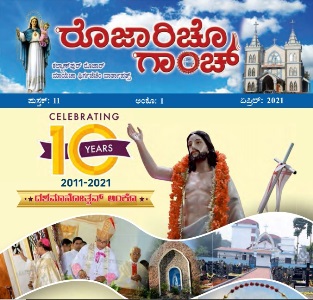 ---
Land/Houses for Sale in Kaup, Manipal, Kallianpur, Santhekatte, Uppor, Nejar, Kemmannu, Malpe, Ambalpady.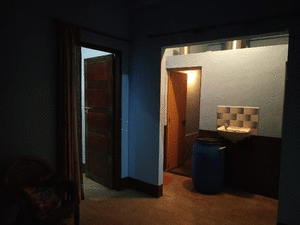 ---
Contact on Going Residential ProjectAl Nayaab Residency, Udupi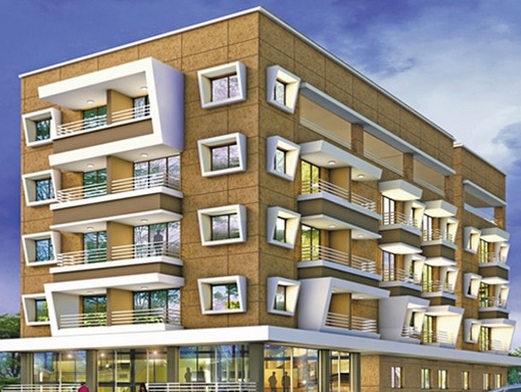 ---
Choice Furniture vast household showroom opens at Santhekatte, Kallianpur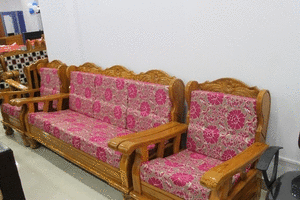 ---
Focus Studio, Near Hotel Kidiyoor, Udupi